游戏简介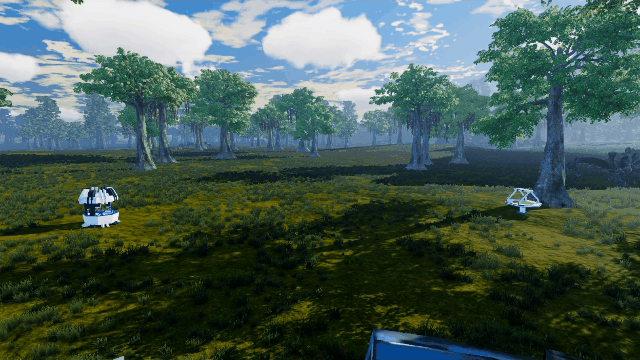 You play as Amanda, a treasure hunter on a quest for finding the original planet from which humans evolved. It is said to host incredible ancient technology, one which can bend time itself. However, as her ship approached this particular planet at the edge of the galaxy, something went bad with its engine, which caused a chain reaction of explosions from which only Amanda survived as she crashed on the planet. From this point, you will decide how the story continues and ends.
A more detailed look at the alpha version of the game:
° Three different AI storytellers: Cora Core, Tranquillio Pax and RNGesus Silvius. Each provide different types of game play experience, from a nice curve of rising difficulty, to a chill sandbox experience, to something not even RNGesus can predict.
° Harvest several types of minerals and alien flora.
° Build modular buildings such as assemblers, floors, walls and so on, to construct a base.
° Craft items, blueprints and ammo.
° Manage your needs, such as hunger, thirst, rest and leisure.
° Survive raids made of space pirates or wildlife.
° Current events:
- Raids: Air or ground, by the local wildlife or space mercs. These space mercs can come in spaceships to rain down fire on your base, or drop down directly on the planet and get personal.
- Nox event: Poisonous meteorite explodes in the atmosphere, enveloping the atmosphere in poison and slowly killing all that breathes.
- Solar flare: Causes fire tornadoes that can in turn cause fire that spreads on almost anything, including animals who in turn spread the fire themselves if they catch it.
- Meteor shower: Mostly visual, but also provides a nice boost to your well being while it's active.
- Trade ships: Trade with the different factions.
° Day and night cycle with amazing (summer only for now) weather and cloud system. This is not just a visual only thing; it does affect gameplay. A rainy weather will put out fire while at night your solar panels won't work. Wind influences the efficiency of your turbines.
° Play and explore a different map every time you want to start a new game. Yes, almost everything is procedural.
° Grow your own food.
° Manage your electrical system to make sure all buildings have enough energy to work.
° Gaia contains intelligent AI, such as coward AI (for example, deer) that runs away from you if you come too close, passive AI like most other wildlife, aggressive AI like most monsters and all space pirates, or territorial AI like wolves and sand scorpions.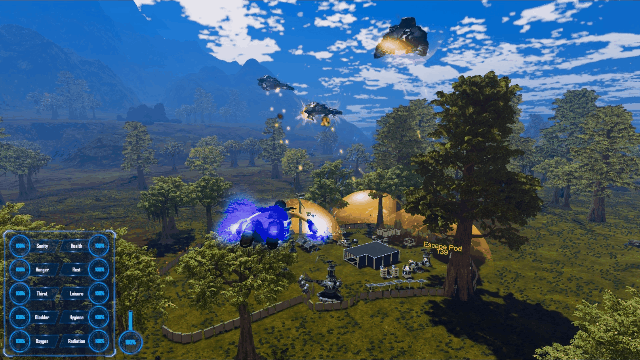 Gaia is designed to invoke feelings of adventure
, survival and triumph. Inspired from games such as Rimworld, tower defense games, RPG games and even Paradox games, Gaia has a bit of everything. From the sandbox experience of Minecraft, the wave survival of tower defense games, to the beautiful graphics of RPGs like Skyrim and Subnautica,, the game will provide a unique gameplay experience.
Amanda has her own needs that affect gameplay
, such as hunger and thirst. Make sure you eat prepared food, drink water, rest from time to time, relax by watching the sunset, going to the bathroom when needed and washing your hands. Failure to do so will cause problems, such as decreasing your max health, running speed or mental health, which itself can cause some pretty serious issues.
The map is generated every time
you want to start a new game, which means you'll get a new gameplay experience every single time. Your starting location affects your playing experience, as you may start off on a beach near the ocean or somewhere inland in a dense or sparse forest. Each map comes with its own challenges and advantages and it's up to you to adapt to the situation. Only the topography is static, i.e. the ground.
Gaia has a complex weather system
, containing a day night cycle and a date system, wind, rain and temperature. These factors affect Amanda as well as how some of your buildings work, like turbines. Make sure you take into account all of this when deciding what to build or what to do at any given time during the day.
Grow your own food and cook complex recipes
, some which may require alien flora or alien meat. Every vegetable you grow has its own advantages or disadvantages, such as nutrition, time of growth and amount of harvest. Choose between corn, chili, carrots, onions, cabbage or even leeks.
The goal with Gaia is to provide an experience that is as realistic as it can be. In its current state, Early Access, the game can go in many different ways. You, the reader, can get involved with the community and have a say in which direction the game goes. What should be prioritized? What would you like to see in a game like this? Do you want to be a tester or to showcase the game in a youtube video? There is a website and a forum where you can get involved and contribute to the path Gaia is taking. You can also post suggestions or ideas! Please visit our forum by clicking 'Visit the website' in the panel on the right or post your ideas in the Community Hub to check out the 'Packages' list!
游戏截图
前往 Steam 购买 / 下载
在 GameDB 查看详情
您可能还对这些游戏感兴趣